Group online training - Information for schools
Transform the teaching of literacy in your school. 
About the Course
The team at Jolly Learning have created a wonderful series of courses that will transform the teaching of literacy in your school. The schools in Ireland have led the way with full adoption of the Jolly Learning approach and significant literacy success as measured in consistently high levels of performance in the international PISA assessments.  Each course will provide your staff with the knowledge and skills that they need to become highly effective literacy educators and thus ensuring the best possible dividend for the school in terms of reading and writing skills.
More information on each course is available from the learning centre page. 
The benefits of enrolling a school group
Studying the course as a group can have a lot of advantages:
Training a group transforms a school's capacity to improve reading and writing at the whole-school level, which is way more effective than a single individual trying to effect change alone. The school team is empowered. All teachers in the group acquire the same knowledge bank, key understandings and essential skill sets. The team, as a whole, drives school improvement in literacy.
All teachers can participate in the course discussion forums, ask questions and acquire clarifications. The team becomes a powerful professional learning community.
Your group can share their knowledge, ideas and experience as they progress through the course and apply learning in the classroom. Team members talk, discuss, share and learn from each other.
You are supported by a CPD College course tutor who is expert in the programme. The school team can avail of their CPD College expert tutor for further guidance.
All teachers receive their Jolly Phonics Certification once the course is successfully completed. The team now has the evidence that they are trained Jolly Phonics practitioners.
We can set up one of your team or indeed yourself as a group manager. The group manager can monitor the progress of the team members throughout the duration of the course.
The cost of the course is £89 per participant. We also have have great licence purchase options available for your school - See below.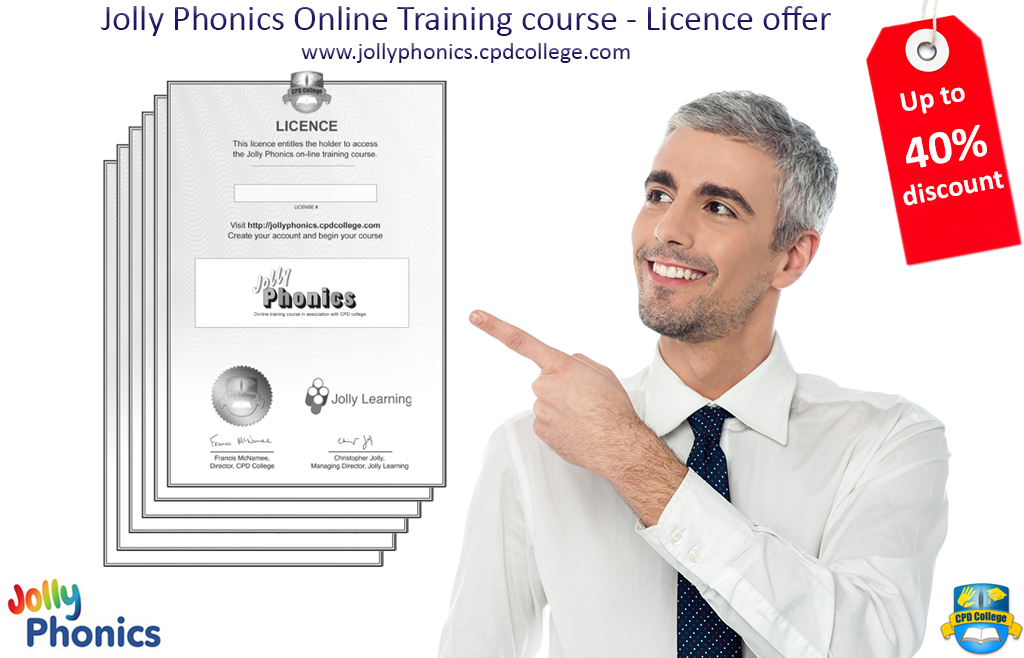 Benefits of buying licences 
Avail of large savings in cost
Fulfil all your training requirements in advance rather than on an ad hoc basis
Distribute licences to your staff when you need them to train on Jolly Phonics
Be equipped in advance for staff changes/movements
Licences do not expire, once you buy them, you have them forever
Easy set-up, just give the staff member the licence and they can enrol themselves in a few minutes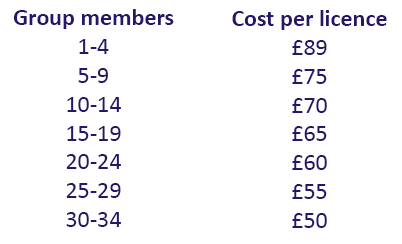 To make an enquiry or a provisional booking for your group, just complete the following form and we will be back in touch straight away. 
Group enquiry/provisional booking form
"I'm so happy that the teachers in our school have undertaken this online training course. We are now using our materials most effectively and as a result we have seen a tremendous improvement in the literacy skills of the children" - Amy, 2022